About Suhner Abrasive
Suhner Abrasive Mission Statement
Tradition and innovation since 1914. Development, design and manufacturing of professional machines from one source. Suhner's target is to offer you an economic and efficient surface finish through a combination of tools, abrasives and expert knowledge.
In-house development and production
Thanks to Suhner's own research and development department they can respond quickly to market needs. Developing efficient and energy-saving tools is a key requirement which they live with constantly. Of course, the worldwide varying conformity requirements are being respected. Quality products – made in Switzerland and the European Union (EU).
Personal advice
Suhner's technical experts are personally available for you in finding solutions as well as in the further cycle.
Products from Suhner Abrasive
Abrasives
Tradition and innovation since 1914. Development, design and manufacturing of professional machines from one Suhner offers complete solutions consisting of a perfectly balanced range of machines and abrasives for the toughest demands. Suhner's grinding tools are designed to improve any kind of abrasive surface processing. From roughening and grinding with enhanced material removal, to precise milling, brushing and polishing - Suhner grinding tools offer impressive quality and reliability.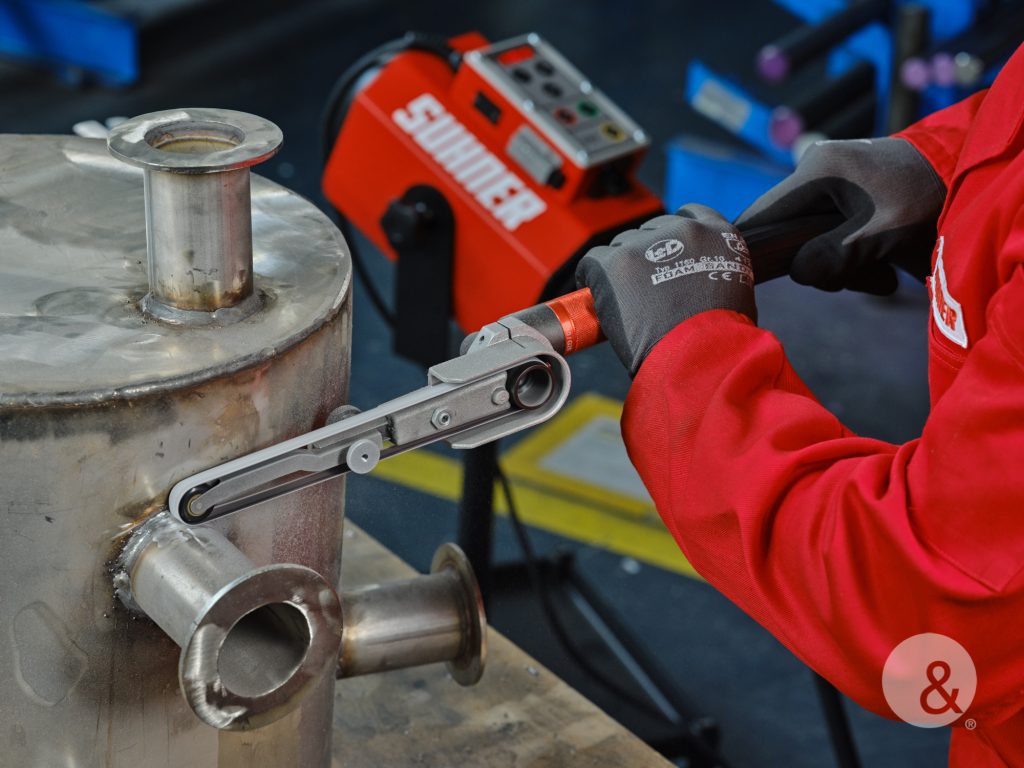 Flexible Drive Machines
A concept with many advantages. A variety of jobs usually means a whole set of different machines and tools. Not so with Suhner flexible shaft machines. They have: universality, adaptibility and conveniance together with full power - from the most precise work in mobile operation to heavy work under extremely difficult conditions.
The separation of drive unit and the tool itself provides for complete freedom of operation, without fatigue, during long working periods. Additionally, areas difficult to reach with other tools can be worked effectively with flexible shaft machines. Suhner's programme embraces multi and infinitely variable speed machines. Operating speeds based on long, practical experience provide for optimal cutting and surface speeds, which guarantee maximum stock removal and also economic tool life factors.
Electric Power Tools
Suhner electric tools are used with great success in trade and industry. The main applications are grinding, cutting and polishing. Suhner machines are manufactured to meet today's needs. They are very efficient and highly reliable.
Suhner power tools comply with the requirements of the relevant EU Directives.
Angular gear with spiral bevel gears.
High output with low machine weight.
The machines are equipped with an overload fail-safe.
Comparison with other power tools based on power input/output values shows Suhner machines to be in the highest category.
Micro Motor System
The Micro Motor System from Suhner distinguishes itself from the crowd with powerful motors and ergonomic operation. Rotation speeds of up to 60 000 min-1 are achieved with almost no noise. The precise concentricity enables you to achieve the cleanest, reproducible results. The control unit has modern features such as touch screen operation, the option to save settings and a rotation speed regulator with tactile resistance.
Mobile grinding, milling and polishing system
Up to 60 000 rotations per minute
Higher torque with 30 % more output
Low level of vibrations
50 % more clamping force and hence no displacement of the cutters
Robust control unit with intelligent features and easily visible rotation speed display
Touch screen operation for glass display
Rotation speed regulator with tangible resistance
Motors produce almost no noise
Suhner Battery Range
Four mobile compact grinders combine the tried-and-tested Suhner ergonomics with highly efficient battery technology. Suhner cordless machines not only sit comfortably in the hand but are also durable, robust and reliable. High-performance electric motors and battery packs offer an ideal combination. Your partner on the construction site and in the assembly area.
Suhner cordless tools are used successfully in trade and industry. With cordless machines from Suhner the user has a reliable partner on the construction site and in the assembly area. The cordless machines from Suhner are characterised by their robust design.
They are durable and powerful. The use of the latest generation high-performance electric motors and efficient battery technology is a natural choice.
Detachable particle protection keeps coarse dirt away from the motor.
The high-performance battery packs work with 18V voltage and hava a capacity of 5Ah.
Intelligent battery management ensures perfect interaction of all components and optimal utilisation of the available energy.
The temperature of the battery packs are constantly monitored. In the event of over-heating or an overload the electronics shuts down the device.
A shock-absorbent protective coating made of rubber protects the battery packs during rough everyday use.
Pneumatic Power Tools
Suhner pneumatic tools have proved extremely successful in the industrial and handworking fields. They are used in machine fabrication, boiler construction, foundries, tool and mould manufacture and in assembly work. Their design is based on very high output with most economic air consumption. Machines are powered by strongly constructed slide vane motors, providing a most favourable power to weight ratio.
Their construction simplifies servicing. Wearing parts can be changed easily and economically. Suhner portable pneumatic tools are quiet with low vibration. The outside housing parts of grinding machines are plastic covered and have good cold insulation properties and manageability. For the efficient operating of pneumatic tools, it is imperative that the air supply be free of condensation and dirt, with a full and constant pressure. Additionally the clean air must pass through an oil mist, to ensure lubrication of the motor and spindle bearings. These requirements are provided by means of a maintenance unit, consisting of filter, pressure regulator and oil mist unit. The working life of pneumatic tools is greatly increased.
EM - Built-on Motors
The Suhner built-on motor programme stands out through a high degree of modularity. Electric motors, switch caps, connection or gearbox flanges can be combined individually. Building on existing standard components; customer specific solutions for built-on motors can be compiled through Suhner's engineering team – all according to your requirements.
Suhner's modular concept covers the engine-power classes: 300 – 2'000 Watt and nearly all electromotive series from 100 – 240 V. With the help of variation in packet lengths, specific winding interpretations, as well as the use of different gearing components, the Suhner built-on motors cover a wide speed range from 3'000 – 33'000 min-1. Universal motors provide an optimal solution for small, medium and large series. The operational areas are very versatile and have proven reliability under the harshest conditions.
Suhner possesses practical experience in these market sectors:
Detachable particle protection keeps coarse dirt away from the motor.
Steel- and wood processing industry
Laboratory and medical engineering
Handicraft and sanitary field
Pneumatic driving motors complete this comprehensive range.